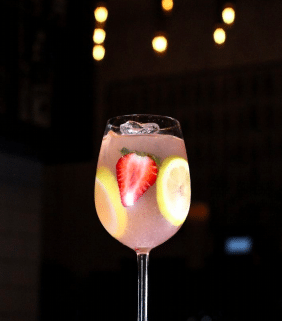 Rooftop Rosé Spritz (Will Benedetto, Cocktail Curator, In Good Company Hospitality)
0.25 oz lemon juice
0.75 oz grapefruit juice
0.5 oz thyme simple syrup*
1.5 oz The Botanist Gin
1 lemon peel
*thyme simple syrup
1 cup sugar
5 large fresh thyme sprigs
In a saucepan, combine sugar, thyme, and 1/2 cup water. Bring to a boil then reduce heat and simmer for 5 minutes. Allow to cool before using. Combine all ingredients in a shaker and shake vigorously. Strain and pour into a glass over ice and top-up with Wolffer Rosé Cider. Garnish with a sprig of fresh thyme.
View full article Here.
https://igchospitality.com/wp-content/uploads/2018/07/Screen-Shot-2018-07-25-at-1.31.55-PM.png
406
282
Sarah Curley
https://igchospitality.com/wp-content/uploads/2018/05/In-Good-Company-Header.png
Sarah Curley
2018-07-25 13:34:54
2018-07-25 13:34:54
Hollywood Life Features In Good Company In National Rose Day: 24 Celeb- Approved Pick Cocktails